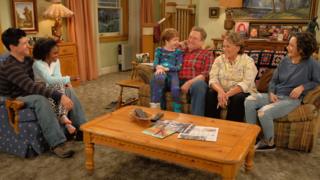 Image copyright ABC Image caption Roseanne and Dan have to adjust to having daughter Darlene and her children come to live with them
Revivals of much-loved TV series can be hit and miss. And Roseanne has been welcomed back by critics - but they say it doesn't quite match the original.
Many of the sitcom's stars are back 21 years on, including Roseanne Barr and John Goodman as Roseanne's husband Dan.
The New York Times said the show was still "feisty and funny" and likened it to the "old couch you can't throw out".
Vulture's Jen Chaney wrote: "It may not be quite as good or as groundbreaking as the original, but it holds up."
Image copyright ABC Image caption Sarah Chalke returns to play a different character this time around
The show originally ran from 1988 to 1997, and the reboot finds out how the working class Connor family are faring later in life during the Trump era.
Goodman's character was killed off in the last series, but somehow makes a miraculous return in series 10 and he and Roseanne are now grandparents.
Image copyright ABC Image caption Laurie Metcalfe and Roseanne Barr in a 1989 episode
Variety's critic Sonya Saraiya said the new episode, which airs in the US on Tuesday, was "a bit rough around the edges".
She continued: "The embrace of the past is both cosy and smothering, a musty-smelling throw intentionally full of holes that looks warmer than it is. No wonder Darlene (Sara Gilbert) fled to Chicago."
Dominic Patten, writing in Deadline, praised the "indomitable" scripts and the performances of Goodman and Gilbert.
But he added that, "with the glorious exception of Gilbert... most of the cast seem to be speed dialling in their performances".
Image copyright ABC Image caption Dan is back - despite dying of a heart attack in the series finale in 1997
He wrote: "As if this was a Roseanne tribute and not a reunion of the original band, eyelines and attention spans are all over the place as if looking for cue cards. Additionally, the pacing misses the beat repeatedly, and jokes are launched only to land far off target."
Another critic, David Bianculli, told NPR Radio: "As revived sitcoms from an earlier era go, Roseanne is a lot better than Netflix's Fuller House and a bit better than One Day At A Time.
"But that's not high praise, and it's not meant to be. When it premiered, Roseanne broke new ground. This time around, it's good, but nowhere near required viewing."
New York Times writer, James Poniewozik, was more generous. He wrote: "Roseanne is a revival that's willing to grapple with the time that's passed rather than deny it.
"It's feisty and funny and a little sad. And like that old couch you can't throw out, it may just have a good year or two left in it."
Image copyright Getty Images Image caption Roseanne Barr and John Goodman are back together
Speaking at the series premiere last week, Sarah Chalke, who played Becky from series six and now has a new role as surrogate mother Andrea, said the time was right to bring Roseanne back.
She said: "I think it is extremely relevant. I think that one of the strongest things about Roseanne in its first incarnation was Roseanne never shied away from any topic. She wanted to tackle them head-on, and that is absolutely the case in the new one.
"And I think it really looks at the challenges facing American families today - both the effect the (presidential) election had on families and it deals with surrogacy, and pill addiction and ageing and death and divorce."
Goodman said the cast reunion felt like "putting on an old shoe and running a couple of laps," while Barr described it as "same old thing".
Follow us on Facebook, on Twitter @BBCNewsEnts, or on Instagram at bbcnewsents. If you have a story suggestion email entertainment.news@bbc.co.uk.