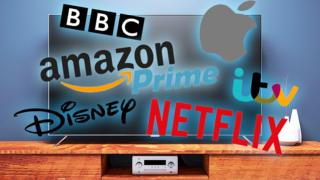 Your choices of where you stream TV from are set to change in the coming months, with Apple TV+ launching this week and Disney+ expected to arrive in the UK in 2020.
Two of the biggest names in entertainment are launching services to rival the likes of Amazon Prime and Netflix.
Apple launch their service on Friday 1 November.
It'll debut with a number of big-budget original shows in the hope of attracting viewers to sign up so they can 'Apple TV+ and chill'.
Their launch slate includes Jason Momoa's fantasy drama See, Jennifer Aniston and Reece Witherspoon in drama The Morning Show and sci-fi adventure For All Mankind, scripted by former Star Trek writer, Ronald D. Moore.
Image copyright Getty Images Image caption The Morning Show is about the rivalry between journalists on a fictional TV show
But the streaming industry is already a crowded market
What's on offer?
These are just some of the streaming options available to binge-watchers and TV addicts in the UK right now.
Netflix
Big shows: Stranger Things, Unbelievable, When They See Us, Making A Murderer, Queer Eye
Cost: £5.99 - £11.99 per month
Amazon Prime
Big shows: The Boys, The Grand Tour, The Expanse, Carnival Row
Cost: £7.99 per month
Now TV
Big shows: The Walking Dead, Succession, American Horror Story, Watchmen
Cost: £8.99
Apple TV+
Big shows (at launch): See, The Morning Show, For All Mankind, Carpool Karaoke: The Series
Cost: £4.99 per month
Disney+
Big shows (at launch): The Mandalorian, High School Musical: The Series, The Lady and the Tramp (live action remake)
Cost: $6.99 in the US (UK price to be announced)
What does Apple have to offer?
Apple is a leader in the technology industry, but earlier this year it was revealed that sales of iPhones were slowing.
Shona Ghosh, senior tech reporter at Business Insider, tells Newsbeat that Apple's desire to stay at the top could have influenced their decision to enter the streaming business.
"It's ambitious for a tech company that isn't really known for providing content itself to try and commission shows," Shona tells Radio 1 Newsbeat.
"Apple knows it has a lot of people that buy iPhones, iPads and Macs. Also there's Apple Music.
"So because it knows it has trust as a provider of that stuff, it's branching out into shows and thinking it can really add something for the people that buy their devices."
Disney will enter the fray in 2020
Disney has a big advantage because it has decades of filmmaking experience already, according to Shona.
It's been producing its own original content for nearly 100 years and will launch with exclusive content from Marvel, Star Wars, 20th Century Fox, Pixar and National Geographic.
"It costs a lot of money to make popular shows and Disney is an expert in offering really well-known film and TV franchises," she says.
Warning: this content may contain ads
Skip Youtube post by Star Wars Warning: Third party content may contain adverts Report
End of Youtube post by Star Wars
opyright BackInTimeTV1 BackInTimeTV1 Report
That could mean streaming services will get bundled together into packages.
"People don't have the money to pay £10 or £15 a month for Netflix, then another £10 for the combined streaming service being offered by the BBC and ITV, then Amazon Prime as well - that would get very expensive."