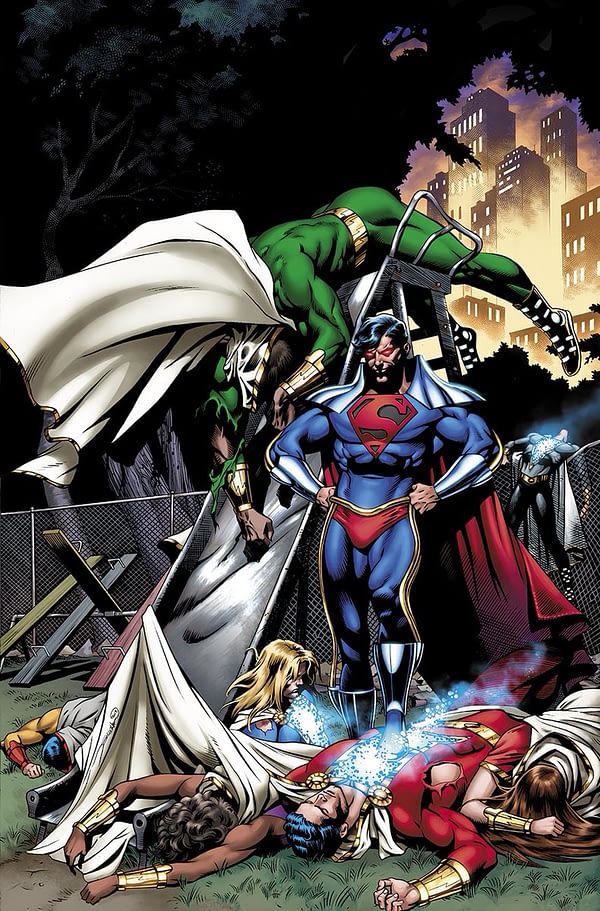 The Shazam series by Geoff Johns and Dale Eaglesham has been repeatedly delayed, resolicited and delayed again. Issue 12 was solicited for March by Geoff Johns, Dale Eaglesham and Marco Santucci with a variant cover by Ken Lashley but was withdrawn even before Previews was published, leaving but a stub listing on certain comic book online stores. But series colourist Michael Atiyeh has posted even beyond that, with the cover of Shazam #13.
That's Superboy-Prime, folks. Just the sort of person you might need to punch reality to make a) Doomsday Clock fit in with the rest of the DC Universe b) give us another Crisis c) give us another Convergence or d) make 5G happen. Superboy-Prime is from a parallel Earth called Earth-Prime, devoid of any superheroes, or even superhumans, aside from Superboy. There, Superman and the other comic superheroes were fictional characters, as they were in real life. The Earth-Prime universe was erased during the Crisis on Infinite Earths, and Superboy-Prime ended up in a "paradise" dimension where during that time, he found himself unable to let go of his former life and destiny as Earth's greatest hero. Over time, his convictions and morals become twisted and warped, and he came to believe that Earth-Prime is the only proper Earth and that Superboy-Prime was the only one worthy of the Superboy mantle. Prime firmly believes that being Superman is his calling despite the fact that h e has become a psychotic and murderous villain. In the "paradise dimension", Superboy-Prime secludes himself from the others, using crystals to replay events from his life on Earth Prime. Superboy-Prime becomes frustrated and angry, and he tries to reach out to Kal-L, whose attention is focused on Lois's failing health. Alexander comes to believe that the reason behind Lois's failing health is the paradise dimension itself, and persuades Superboy-Prime to help him return to reality by showing Superboy-Prime the negative aspects of the post-Crisis Earth. Superboy-Prime hesitates until he overhears Kal-L say: "I wish this world would let him grow up. He'll never be Superman here". Finally, Alexander shows him the deaths of his parents and girlfriend in a car accident on the post-Crisis Earth. Furious, Superboy-Prime pounded on the barrier of reality. This assault caused ripples that altered reality, which was used as an explanation for character changes and retcons in DC continuity. These changes included Jason Todd's return, Superman's multiple origins, including The Man of Steel and Superman: Birthright, combining, Doom Patrol's rebooting as new characters, including Elasti-Girl, Donna Troy's multiple origins after the first Crisis, various incarnations of Hawkman and the different incarnations of the Legion of Super-Heroes since the first Crisis. Which is pretty much what we are getting in the DC Universe again, courtesy of Doomsday Clock and DC Rebirth… is it time to do some reality punching again?
Enjoyed this article? Share it!
About Rich Johnston
Chief writer and founder of Bleeding Cool. Father of two. Comic book clairvoyant. Political cartoonist.